A person underwater, a boy. Struggling, trying to get to the surface, failing. All we see is the boy in a world of endless blue, gasping for air, swallowing water, dying.
The video takes what seems like a equally endless 1,5 minutes, just the same amount of time it takes to drown. It is an unimaginable scene – if it wasn't just right there on the screen. The video is fictionalized, but it shows a situation that takes place every week: a person dying on their way to reach European shores. A reoccurring nightmare that is the reality of what happens at Europe's Mediterranean border.
I arrived in Munich on Wednesday evening from London to support the Central-Eastern Caravan for a few days with their activity as part of an ethnographic research project carried out in collaboration with European Alternatives. I already knew these few days driving around Europe in caravans with the purpose to connect struggles transnationally, and make already existing alternatives visible, would be intense. Indeed, upon arrival, over Bavarian food, I was impressed to hear what the team had already experienced – having engaged with activists, theatre makers and politicians in Berlin, Dresden and Hoyerswerda on their way through East Germany where the AfD is getting stronger and stronger in many regions before the upcoming European, local and regional elections in the next months. Will far-right parties take to the European Parliament in even stronger numbers in a few days? This is the question which is omnipresent on the Transeuropa Caravans.
At night, I lay awake for hours, thinking about the boy, the families, the men, women and children who die every month on their way to Europe. The aforementioned video has popped up on Georg's smartphone right before going to bed to get some rest for another day of actions. We watched it once, twice, three times, then switched off the light. It's a campaign video of the (usually) satirical party Die Partei which runs for EU Parliament elections in Germany and which has, in fact, been represented with one seat in parliament in recent years by Martin Sonneborn. These deaths, the video suggests in all seriousness, are deaths that could be prevented. It is down to the EU's inability to implement existing demands for safe passage, humanitarian corridors and sufficient resources for sea rescue, which contributes to the deaths at the doors of Fortress Europe.
As I lay awake, I wondered what the point was of voting in the European Parliament election if there seems to be an unwillingness in the current institutions to even properly discuss alternatives proposed by activists, NGOs and civil society organizations such as Sea-Watch who was referenced in the video. In a few days, the Central Eastern Caravan will organize a discussion about Niccolò Milanese's and Lorenzo Marsili's book Citizens of Nowhere in Vienna, which will be an invitation to discuss how political organizing in and beyond institutions needs to change so that radical-sounding demands for change are not only heard, but start to be implemented. Today, we will head to Munich's central square Marienplatz to disrupt the city's official Europe Day celebrations with a direct actions, spreading the claim that Another Europe is possible. Happy-not-so-happy Europe Day, then. Or else: happy Another-Europe Day, everybody!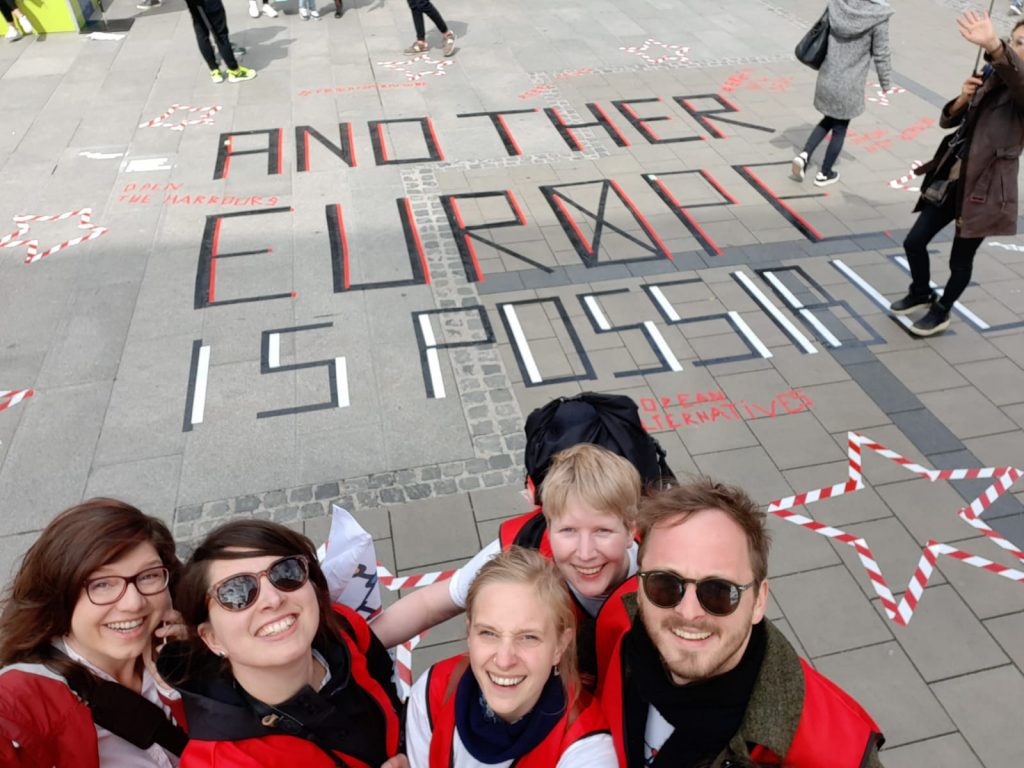 Antje Scharenberg has joined the Central Eastern caravan which is traveling through Germany, Austria and Hungary and exploring the theme of civic space under pressure. Follow us on the hashtags #TranseuropaCaravans #CEERoute.